Stock Trends and Control – a winning combination
The first message is you don't need to know what's going to happen next to make money. With this knowledge firmly implanted in your head it is easier to go about applying a simple investing strategy that makes money.
Trends don't change or go away they occur repetitively across all markets all the time. Identifying a trend when it begins to develop, following it, and then profiting from would seem a relatively easy task and it is when you have the right controls in place.
You may be frustrated sometimes watching you profits disappear and there are some super trending stocks right now like TWE CSL and ALL that have generated huge profits for many of you. The question is, when do you hold and when do you fold? The current market is exercising our minds on this topic right now. No longer are we quite so comfortable as these trends get rattled. History tells us when prices correct back investors inevitably hold on and let these profits disappear. We are in this business of making money pure and simple so we must learn how to hold on to these profits when we are gifted with them and not let them evaporate.
When we see beautiful stock trends that occur with uncanny repetitiveness in the markets it puts an exceptionally powerful tool in your hands and it gives you a great advantage. It can make the difference between an average portfolio and a steadily growing portfolio. To do this we need to develop a simple analysis or entry process and couple that with the discipline and control required to benefit from stock trends. It is that simple.
Trends take the form of different shapes, sizes and periods over which they occur so a position needs to be managed appropriately and this can be done using money management techniques to ensure an optimum result. It is usually an issue of discipline and control and not knowing what to at any point in time and this is important to address as for the most part it's doom and gloom stories that swirl around in the press, which makes us nervous and distracts us. I don't have the all answers, nor do they, but by developing a robust trading process that capitalises on market trends is a way creating the stable and systematic equity growth we need.
Controlled techniques provide solid a framework on which to base trading and investment decisions on. It makes life easier for us and guides us. It tells us when we should lock in profits. Not worrying about subsequent price action is the key. What we are trying to do is take a good 'chunk' of a trend without the expectation of getting a top and a bottom. That is unrealistic. That expectation can be distressing and that doesn't make for a happy trading experience. It's a matter of controlling your expectations to the extent you are happy and relaxed with your outcome, and you're profitable. If you lock in profits that can't be taken away, you feel good and move on to the next opportunity, because there always is another opportunity. I understand this might seem difficult but investing doesn't have to be an uncomfortable experience as proper control and guidance provides you with the confidence level you need and lays the platform for a more relaxed environment from which you can execute the trading and investment strategy. All it needs is an opening of your mind to a different expectation and the habits you choose.
The type of strategy I am talking about ensures we profit from 'big' trends and maximise the opportunities they provide. This is what investing is about – growing your equity at every opportunity. We see 'big' trend moves happen over and over again in the markets. Trends are trends and they don't change just as human behaviour doesn't. Growth versus income phases come and go, cycles come and go, fads come and go, Internet, miners, or lithium stocks, there are always hot stocks on the move but it is the market trends that are always with us. That doesn't change.
I liken it to surfing, one of my favourite pastimes. Catch the wave, enjoy the ride and jump off when it subsides. That's the simple message. We sometimes find this trading action hard because of the many inbuilt biases, egos and expectation inhibitors we have. That's natural human behaviour but it often distracts us from implementing a winning attitude and that is your challenge if you want to succeed. If we want to make money we must learn to take our profits.
If we just take one current example that of Beach Petroleum (BPT) we can see how I have used this process to my advantage. BPT rose to a new defined high above $0.90 (low $0.40) in late 2017 giving an entry $1.00. This was a very simple rule based signal based on a new high. Once a position is initiated we then set a protective stop at a predetermined price level and let the money management rules take over and manage the trade. This is how we manage and take profits (revenue) and limit losses (expenses).
As BPT rises, the stop follows closely behind until eventually it is hit which it was on a weekly close below $1.84 on the 12/10/18. (High ($2.14). The exit is taken on the following Monday at $1.80. From the entry of $1.00 we have generated a $0.80 profit or an 80% return in 12 months. We have allowed this trend to develop, jumped on it, and jumped off when it subsided. Common sense! There are also other examples, TWE, CPU, NST, CSL, WOR, and AWC have all developed lengthy trends with big profits to protect and there are there are always predetermined 'get out' points where that will occur. Once an exit is triggered and profits are locked in it is considered the right decision and subsequent price action is not dwelt on. We then move on to the next trend opportunity. This helps develop a good headspace.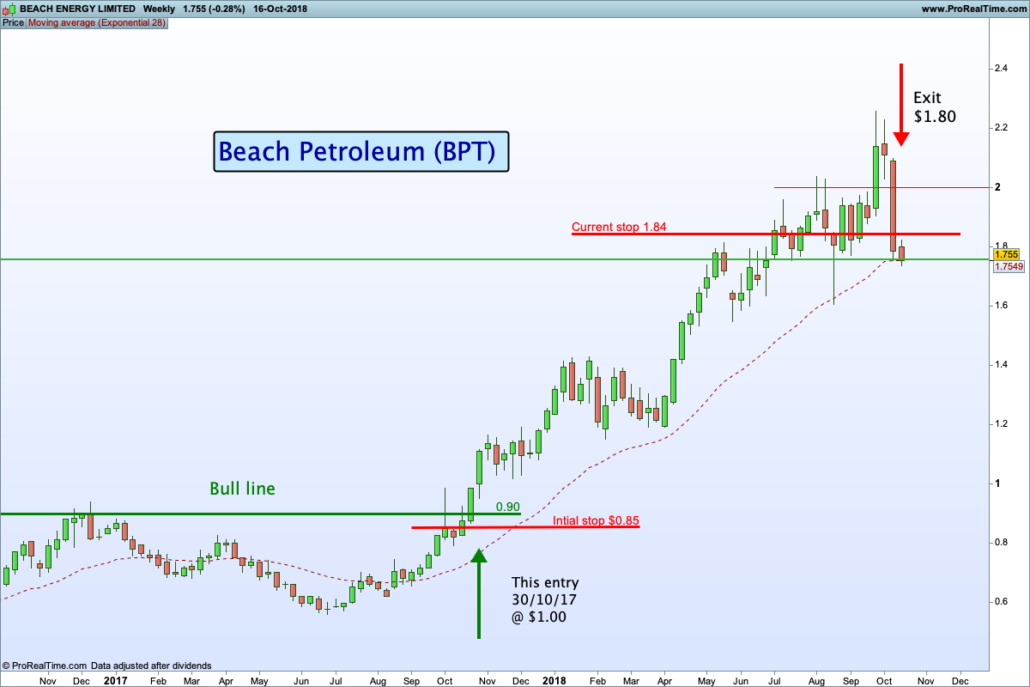 All stocks have wild swings in prices and I know some investors get frustrated so this is a process that allows profits to be locked in. The key point here is that this process can generate steady growth in your equity, which is the ultimate objective of any trading strategy. Not perfection but profits. Protecting gains is a great way of building you capital base. Provided you have good money management governance you will always be safe. Below are some examples of wild swings in leading stocks that you could either hold through, or trade and maximise the trend potential these stocks offer.
BHP – $7 to $45, back to $20, up to $45, down to $15, and now back up to $35 and rising again.
MQG- $20 to $90, back to $20, and now $125 and also rising again.
CBA – $24 to $62, back to $24, up to $96, back to $70
TLS –  $6 down to $2.50, up to $6, and back to $2.60 – again.
CSL – $4.00 to $230 now??
ALL – $1.00 to $17, back to $4.00, then $32
Being realistic and aware of market opportunities is important. For example the banks or high yielding stocks may be an exception to this rule even if capital growth subsides as it has with the banks. As regular payers of big fully franked cash dividends in some instances the growth can become secondary to some degree and the buy and hold more relevant if the yield returns are adequate for your needs. However for the majority of stocks the 'common' trend is the undeniable opportunity. It is about learning, knowing how to, and being able to, take those profits and lock in those big returns and then be content with your decision. With proper control we can watch trends unfold in front of us and profiting from them can become an automatic, profitable and fulfilling experience. Just like jumping on a bus and jumping off to get from A to B. You just do it.